The single sign-on feature allows you to log into the Lumiform application using your organization's credentials.
This feature is currently only available to enterprise customers. In order to enable this feature, please contact our support team so that they can request the technical configuration set-up.
To use it you need the latest Lumiform iOS/Android version, please update the device to access it.
Once the configuration is done, you will receive confirmation of the successful integration and that your organization has been connected.

Once enabled, your team/s will be able to log into Lumiform using your credentials.
Your business will be able to have users with normal regular accounts not connected through single sign-on as well.

If you're not on an enterprise plan and your business needs this feature, please contact us via the chat in your account to request the activation and upgrade to the enterprise plan.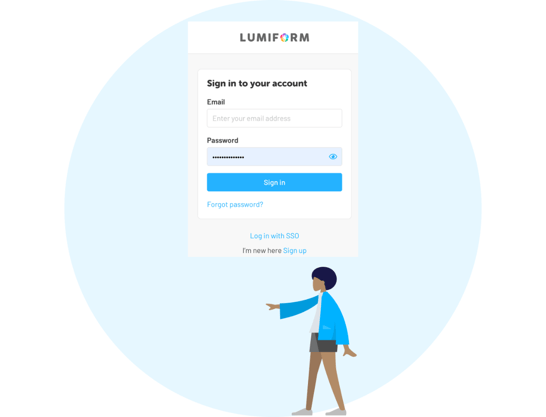 The top 3 Benefits are:
Enhanced User Experience: SSO simplifies the login process reducing the risk of forgotten passwords and the need for password resets.

Improved Security: SSO encourages the use of strong, complex passwords and allows for centralized authentication and authorization minimizing the risk of password-related vulnerabilities, such as phishing attacks or keyloggers.

Streamlined IT Management: SSO simplifies identity and access management enabling better visibility and control over your user activity, making it easier to monitor and audit user actions across your organizations' applications.