In this article you will learn how to create a checklist.
Create a template
To get started with your checklist go to Dashboard → + Create checklist or Templates → + Create template.
Our Checklist Builder is divided into three tabs: 1. Build, 2. Assign and 3. Customize report. Below we will explain what you can do in each tab and which setting options you can select.
The "1. Build" tab
The actual creation of the checklists takes place in the "Build" tab. Here you enter the questions that will later lead through the inspection.
List name
The list name is the name of your checklist. It is used to display and find the checklist later - therefore it is recommended to use clear and self-explanatory list names.
Header page
The header page is generated automatically and will be visible in the top section of the report.
By default, the user performing the inspection and the time of the inspection are generated automatically. However, you can add additional questions individually.
Pages
It is advisable to divide long checklists into individual pages, e.g. "Refrigerator Checks" as page 1 and "Freezer Checks" as page 2. To add another page click on "add page".
You can change the order of the pages at any time by clicking on the arrows ⇵ next to the page title. A window will open where you can drag and drop the pages into the desired order.
Click on "Update page order" at the end to save the new order.
Sections
You can use sections to further divide the pages. For example, if you are checking for information about multiple devices, you can use sections to link the checks to each individual device.
You can create a new section by moving the mouse pointer to the line between two checks and then clicking on "section". You can assign any number of checks to a section.
You can also create repeatable sections by clicking on the "Repeat section" checkbox. This is useful, for example, if you want the inspector to be able to add any number of additional devices during the inspection.
Checks
Checks are the individual questions/instructions in Lumiform. You can add as many checks as you want to a list, page or section.
You can add a new check either by simply pressing Enter or by moving your mouse to the line between two elements and then clicking on "check".
Response types
You can choose from a variety of response types for each check. To do so, simply click on the arrow next to the multiple choice answers displayed by default and then select the response type you are looking for.


Logics
You can set up logics for the response types "Multiple choice", "Number", "Checkbox" and "Dropdown". With a logic you can predefine a subsequent reaction if a certain answer option is chosen.
To set up a logic, move the mouse to the line below the corresponding check and click on "logic".

Depending on which response type you have selected, you will be presented with different options - you can see them by clicking on the arrow next to "If answer".

To finalize a logic, you select next to "then" if either a "Query/Instruction", "Raise issue" or "Add Section" should follow the if answer.

The "2. Assign" tab
In the "Assign" tab you can define which users have access to the checklist and at what time access should be granted. You can invite users via email, entitle persons to conduct the checklist whenever she/he wants or add a specified schedule.
Schedules
Using schedules, you can assign a due date to each checklist and assign it to a specific user or user group. The selected users will see the checks in their My ToDos at the set time and will also be notified by email, push and/or SMS that a new check is available and can be conducted immediately.
If you want inspections to be performed at a specific time, in "Yes, select users and time" you can define Schedules.

You add a new schedule to your list by clicking on "Add another schedule". You can then choose to assign the schedule to specific groups or users. You can also select groups and users concurrently. You can also assign multiple schedules to a checklist, which is useful if, for example, a list is to be performed by both the early and late shift.
The selected people will see the checklist on the Lumiform Dashboard under "Assigned to you" and on Lumiform Mobile under "ToDo".
Under "First schedule available from", you enter the time when the checklist should be displayed to the selected users, i.e. you determine the time when they may start to conduct the checklist.

Under "First schedule due by" you define the latest date by which the checklist should be completed. This can be only a few hours later on the same day, but it can also be several days later.
Under "Schedule repeats" you can set the rhythm in which the schedule should be repeated, if at all.
The "3. Customize report" tab
Under the "Customize Report" tab you can set how your individual report should look like, upload your own logo and enable or disable various filters.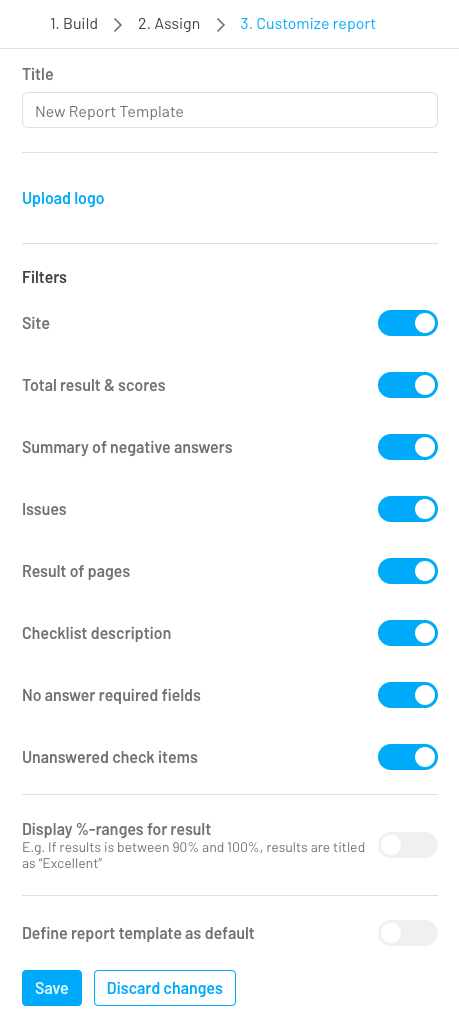 Save your checklist
Once you have created your checklist and set all the settings to your liking, you can either "Save & Activate" your checklist or "Save as inactive".
With "Save & activate" your list will be activated, i.e. all schedules will be implemented according to your settings.
With "Save as inactive" the checklist is saved, but the schedules and other settings are not actively implemented.