In this article you will learn how and for what you can use Lumiform Desktop.
In this article
Lumiform Desktop

Profile Settings

Dashboard

Templates

Forms

Actions

Sensors

Administration

Analytics
Lumiform Desktop
You use Lumiform Desktop for the organizational part of your forms and audits, i.e. to manage your user and team structure, create and manage form templates and evaluate the results of the forms.
The forms are completed with Lumiform mobile app.
In Lumiform Desktop there are besides Profile Settings six large menu items: Dashboard, Templates, Forms, Actions, Administration and Analytics.
Moreover, if you use Lumiform in combination with our Sensors, you will find an additional Sensors item.
In the following you will learn more about the individual functions of Lumiform Desktop.

Profile Settings
By clicking the profile icon on the top right, you can see your profile settings.

There are Notifications which are sent either via push notifications, SMS or email.
In Subscription, you can find and edit your plan and billings details.
In Profile you can update personal profile settings like name, email, notifications and password.

Dashboard
In the Dashboard you find an overview of all forms and audits.
Moreover, you can directly click on "+ Create form template" or "+ Add user".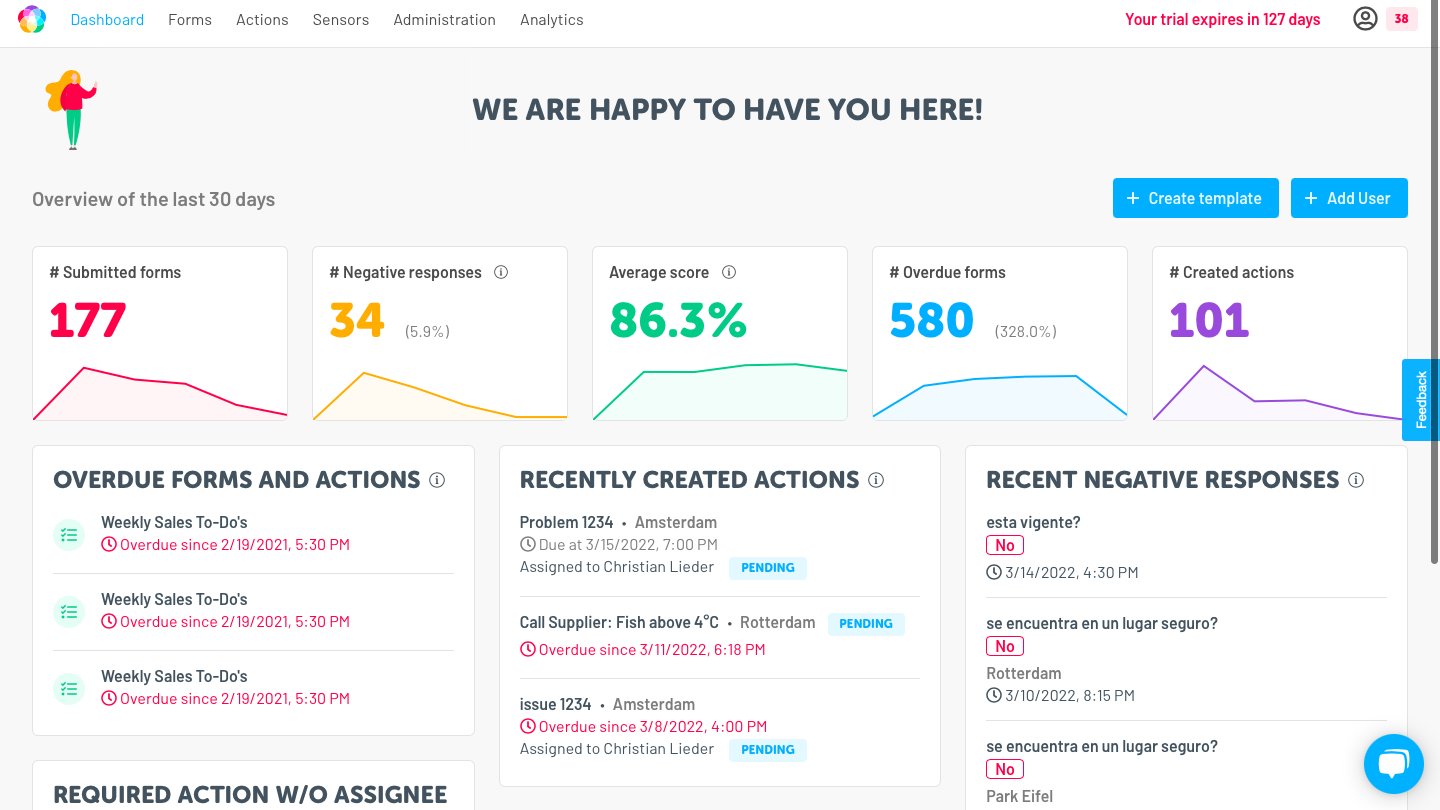 You can also click on Negative responses, Average score, Overdue Forms and Actions and you will be taken directly to the detailed report of the respective analysis.
The Overdue forms and actions section refers to forms and actions that still need to be performed at the time. By clicking on a particular form or action, you can start the execution.
In recently created forms you can edit and update actions.
Last negative responses refer to reports, in which negative responses occur.
The forms to be submitted w/o assignee or deadline can be edited and updated by clicking on them.
In Assigned to you forms and actions which are assigned to you can be viewed and completed.

Templates
Under Templates, you will find an overview of all your templates. Besides the templates of the form templates you will also see the corresponding category, the schedule and the status - active or inactive.
The action-features on the right allow you to duplicate or delete templates and start forms.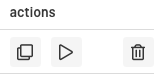 You can also create new templates here. Creating a template includes building the template and assigning it to a person, as well as customizing the report. Finally you can save the template as active or inactive.

Forms
Here you will find a list of all completed and scheduled forms with details for each form.
The filter functions give you easy access to specific forms.
Additionally, there is the possibility to start a check with a template.

Actions
Here you can see all created actions listed. You can click on the title of each action to edit it.
Actions originate when an issue is reported during a form automatically (via logic) or manually. For this, you use the exclamation-button, which you find while a form under each check.
Besides, actions can be created independently from a form in Lumiform Desktop and Mobile.

Sensors
This section only appears when Lumiform is used in conjunction with our sensors, for example on refrigerators.

Administration
Under Administration you will find organizational elements.
Here you can view and add users, groups, locations, roles and categories.

Analytics
In Analytics you can analyze the results of past forms and filter them by various criteria to get even more detailed insights into performance.
In overview, you find a summary of negative responses, average scores, overdue checks and incidents.
You can also view a detailed analysis of the respective points and download the results as an export.